British company Chord Electronics has a solid reputation for innovation, technical excellence, reliability, industrial design and superb sound quality across a full range of analog and digital products. To maintain a leading position, Chord frequently develops its own technologies simply because off-the shelf components are too generic and fall short of the required performance. Less ambitious audio companies fine tune customized variants of normal components - but this is only incremental improvement.
True innovation demands getting to the root cause of the limiting factors and understanding what the real requirements are. Collaboration with industry experts such as Robert Watts, whose unique mathematical algorithms for many of the subsystems used in FIR filter, noise-shaping and Pulse Array D to A conversion technology - equally important aspect of DAC design - is essential. Close business relationships enable the realization of the theoretical and prototype into customized FPGA chips or exclusive MOSFET transistors from specialized local fabrication companies that are used by Chord Electronics.
The creativity, dedication, passion, financial discipline and enthusiasm found in a successful small company like Chord Electronics is what brings exciting new ground breaking products into the market place like the Hugo, Hugo TT, and now the Dave reference DAC - a very exciting product indeed.
When the DAC 64 was released at CES 2001, the commentary was not just about technically excellent linearity, low noise floor, jitter and distortion measurements but about the analog like sound and relatively low retail price compared to other far more expensive DACs. Chord's DAC 64 mk2 was one of the few prestigious components bestowed with Stereophile magazine's A+ rating. The QBD76 DAC was an even bigger leap and this technology was distributed across CD and Streaming players such as the DSX 1000. Such advanced technology is made available to a broader audience at a more affordable price in products like the 2Qute and Hugo.
Chord also takes a trickle down and modular approach with amplification. The SPM 1200E mk2 (often found in recording studios) and SPM 5000 mk2 stereo amplifiers, and super high power SPM 14000 mk2 mono blocks all offer unrestrained power and precision giving a natural clarity of sound across a full range of listening levels - late night minimal volume to full throttle party. Advanced switch mode power supplies with self-compensating virtual gyroscopic-like balanced positive and negative voltage rails respond to sudden transient demands that regular transformers cannot muster. These amplifiers do a better job of conveying all the timing and dynamic information from the latest generation Chord Electronics DACs than most others.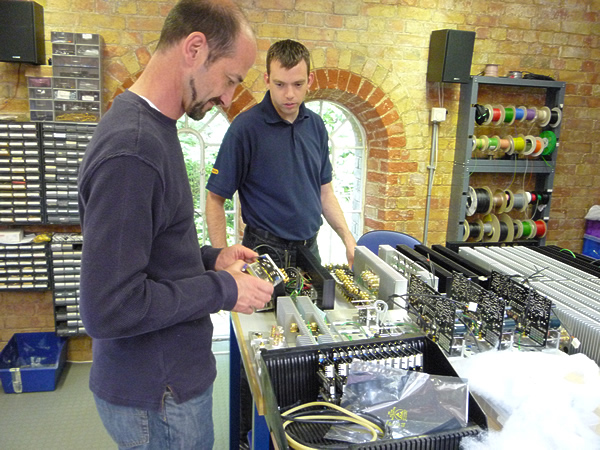 Pride of ownership is enhanced by the distinctive visually interesting industrial design. Aircraft grade aluminum casing and laser etched labels give the products very durable finishes which hold up over years of use, Chord Electronics has professional level components installed in The Royal Opera House London, and many recording studios including EMI's Abbey Road, Sony and Decca in New York, and Skywalker in LA.
Chord Electronics is our highest level electronics line and is a must listen to product for those wanting the very best in sound quality and customer service. Chord products are hand-built to order with typically a 6-8 week lead time. Custom engravings and finish options are available.