You might be new to high fidelity home audio and looking for a great first turntable, an experienced music listener wanting an impactful upgrade, or wanting to add digital streaming and network audio technologies to your existing system. We offer not only award winning products at many price levels, but also the technical support and responsive after sales service so you can keep enjoying your music. Auditions are typically 90-120 mins and are conducted in a non-pressure manner. Answer as many questions as you wish. You will find our demos are both an educational and enjoyable experience.
Nov 18th 2019 - Outlet
Check out kemela's new Outlet site

KEF's x300a Wireless loudspeakers - very affordable HiFi sound and a great gift
Nov 8th 2019 - Custom Design @ kemela
Custom Design Loudspeaker Stands and Furniture is now available in the U.S. from kemela.
Link for more on Custom Design

Milan Ref 10 black with clear glass housing newly released Quad Artera Preamp!.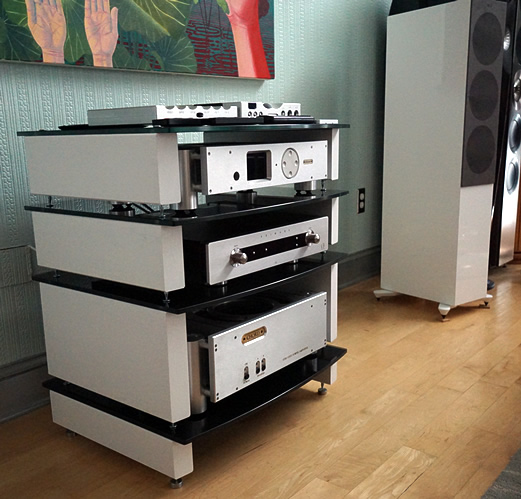 Milan XL white with black glass matching white KEF R7 speakers.
Custom Design's Milan furniture range comes in 4 different sizes with 4 different solid real wood spacing heights in 7 different finishes including Walnut. Optional anti resonance equipment platforms in various sizes are also available.
May 25th 2019 - Memorial Day Weekend Loudspeaker Close Out Sale
Lowest prices of the year on close out speakers from Wharfedale, KEF, Rega, Quad, and Spendor with extra discount on speaker cables. Get more for your money and audition before you buy. Compare to latest speakers such as Quad S5 and KEF R7. We have excellent demonstration facilities with normal sized rooms. Book your time now!
March 14th 2019 - Expect More from Digital Music
We are extremely impressed with the Hugo M Scaler "Upscaler" a whole new product category from Chord Electronics and a technology that first appeared in the BLU mk2 CD transport. Interposing between a digital source (CD transport, Music Player, Network streamer) and a DAC, the Hugo M Scaler brings fresh clarity, soundstage organization, and artistic intention to digital source listening experience.
Technological capability is often divorced from the range of formats in most people's music collections acquired over many years, yet by getting to the roots of the true requirements for accurate digital music processing, here is a product that gives you a far better rendition of well recorded 44.1kHz CDs or standard resolution music files than many disappointing hi-res recordings. With well recorded hi-res files, the M scaler will demonstrate what hi-res is all about. How a drum is struck, how the reed of a saxophone is blown, how vibrato and subtle dynamic phrasing of a singer is used to express, how individual voices add texture to a choir, how the interplay between individual musicians excites or relaxes, everything in fact that we hope to achieve in reproduced music that gets as close as possible to a real performance.
While the 768kHz-capable dual-BNC-inputs of Chord Electronics DACs demonstrate the full potential of the Hugo M Scaler, it can be used with non-Chord DACs. We also got great results from a 6-year old Chord Electronics Qute HD DAC which was forward thinking enough in design to process at 384kHz via BNC coax S/PDIF connected to the M-scaler.
kemela has been a Chord Electronics dealer since it's first FPGA digital product, the DAC 64, and we would love to demonstrate the M Scaler to you. More details
Jan 14th 2019 - Cyrus ONE HD - Available now from kemela
Cyrus Audio's latest stylish high tech 100 watt integrated amplifier includes an advanced 32-bit DAC, MM phonostage, aptX® HD Bluetooth, AV bypass and two other analog inputs, and a superb headphone amplifier. Core is a linear power supply using a high spec toroidal transformer feeding the 4th generation Hybrid Class D design main amplifier to really drive just about any speakers you are likely to pair with it (no problem driving my Wilson Benesch Discovery speakers). Along with the powerful bass comes a great soundstage and dynamic range that is truly impressive from an amplifier of this size and price. The SID - Speaker Impedance Detection cleverly calibrates the amplifier to deliver a consistent sound across speakers with differing frequency dependent impedance curves. Unusually there is a separate class A/B headphone amplifier that uses the full ability of the large toroidal transformer to power the most demanding headphones offering performance on par with that from a dedicated headphone amplifier. Along with asynchronous USB 2.0 up to 32/192 and DSD128, there are 24/192 Optical Toslink and Coaxial SPDIF digital inputs. There is a preamp output and the system is conveniently controlled by a Bluetooth control app(Apple and Android). The rather nice illuminated Cyrus iR14 remote - which can learn functions of up to 2 other remotes - is an optional extra. More details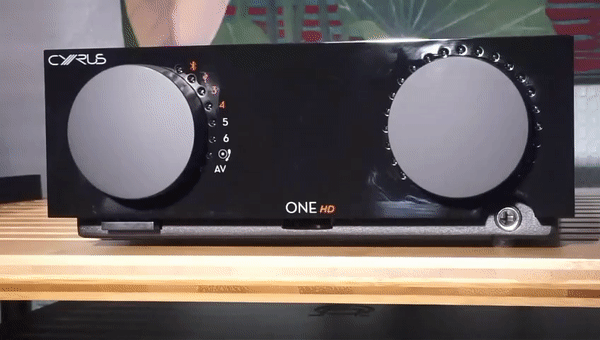 May 17th 2018 - Exciting New Products to audition at kemela
Simaudio's 390 Preamp/DAC/Streamer covers what you need to play music in today's environment. Add Simaudio's excellent 330A 120 watt stereo power amp for a complete two box system with MM/MC phonostage, unbalanced and balanced analog inputs, all the usual audio digital inputs including AES/EBU balanced, HDMI video digital I/O, dual ethernet and Bluetooth. Streaming services include Tidal with Tidal Masters support, Deezer with Deezer Hi-Fi support, Qobuz with Qobuz Sublime support and Tune-In Internet radio.
MQA, ROON ready and Multi-room synchronized playback is engineered in and will be activated with firmware update once the partner certification process is completed. Dual Wi-Fi antennas are provided for a stronger wireless connnection and you can even stream vinyl replay from one room to another.
Combining the Simaudio 390 with a pair of 400M fully balanced 400 watt mono power amps (operating in class A to 10 watts and putting out 750 watts into 2Ω) offers a supremely refined and powerful system to play all your music sources for less than $15,000.
With such a strong feature set and Simaudio sound quality at a very attractive price, preordering the new Simaudio 390 is highly recommended (delivery time is currently 60 days) as Simaudio will be busy supplying the larger European and Asia markets. More details

October 13th 2017 - Kemela receives HUGO 2
Chord are now shipping the latest version of this iconic transportable DAC/Headphone amp. Demand is very high.

More details

August 6th 2017 - Streaming and Network Audio
Melco Audio have now scaled-up production of the new N1A and N1Z mk2 models and they are now available. Only a few mk1 models are left at a generous discount.
kemela was an early Melco supporter and we have a lot of experience with this product line.
Updated Streaming and Network Audio examples page.