The AVID Sigsum is a purist high current Integrated Amplifier with a separately powered built-in phono stage engineered to deliver sound quality exceeding many phonostage, pre and power amp three-separate-component set-ups.

Power output 110W both channels 8Ω, 20Hz-20KHz

Low 0.003% harmonic distortion 80% power, 8Ω at 1KHz

AVID Pulsus MM/MC Phono stage with its own regulated 35VA toroidal transformer power supply

Very large 1.1KVa main toroidal transformer with 132,000 uF capacitor power reservoir

Input sensitivity 2x greater than most preamplifiers

Maximum input voltage 2x greater than most preampliers

Purist ALPs RK50 analog potentiometer (volume control)

Dual amplifier boards derived from AVID reference level amplifiers

High current design to drive large 4-16Ω loudspeakers

Powerful 10v rms headphone amplifier

Comprehensive protection circuits

Switchable Mono operation and mute

Heavy guage steel chasis with 20mm solid aluminum front panel

Carefully hand crafted with exacting continual test measurement

Dimensions: 23.6"(w) x 22.4"(d) x 10.2"(h) Weight: 69bs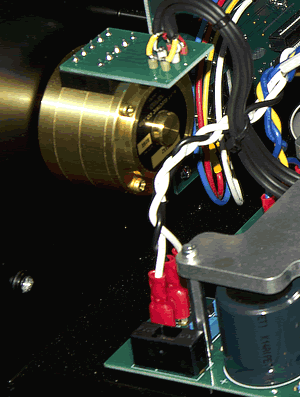 Exceptional preamplifier section
During evaluation of methods to control volume for the Reference and Celsus Preamplifiers, AVIDHIFI found nothing beat the non-motorized ALPS RK50 type potentiometer used in the Reference and Celsus Preamplifiers and the AVID Sigsum benefits from this potentiometer which is generally regarded as the world's best. The lowest level signals, barely above the noise floor, which would be lost in a multi-component or digital approach, remain intact in this large brass housed potentiometer which also has generous headroom thus preserving the complete full dynamic range of a signal. Motorizing the potentiometer and associated digital control led to signal loss and degradation and thus the Sigsum has manual only operation.
Two balanced XLR and two unbalanced RCA line level inputs are provided with short signal paths and the highest quality switching relays. AVID choose to limit the number of inputs so these could be engineered to a very high performance rather than providing a greater number of mediocre quality ones that are never used.
The smooth operation of the volume control and discrete output muting when switching between inputs adds a pleasant degree of quality and sophistication.
Overall operation is as simple as it gets.
Versatile Comprehensive Phono Stage
In addition to the four line-level inputs is a Pulsus MM/MC phono stage powered by its own toroidal power supply which is well isolated from the main amplifier section and with the advantage of a shorter signal path to the preamplifier compared to a stand alone phono stage.
Adjustable resistance, capacitance and gain up to 70dB with low noise levels (MM -81dB, MC -67dB high setting) is provided and RIAA accuracy is +/- 0.5dB over 5Hz to 70KHz.
Gain: 40dB - 50dB - 60dB - 70dB
Resistive loading: 100 - 300 - 500 - 1K - 5K - 10K - 47K Ω
Capacitance loading: 100pf - 200pf - 500pf
As an analog orientated company and leading manufacturer of turntables, tonearms and cartridges, you can be confident that the phono stage is a very good one.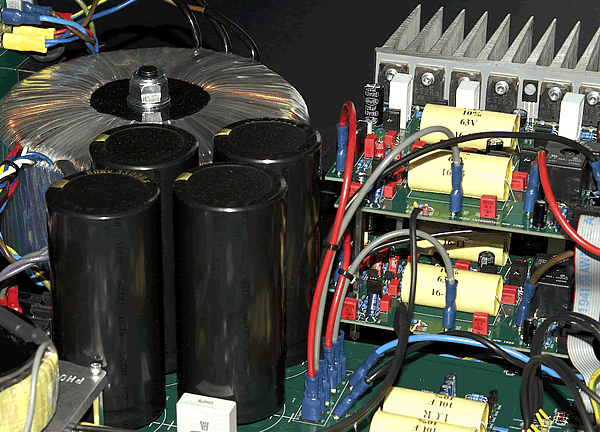 What makes the power amplifier section of the AVID Sigsum special?
The same philosophy of an abundance of power supply and storage reservoir capacity taken to the extreme in AVID's Reference Mono amplifiers is cascaded down in no small measure here.
The Sigsum's 1,100 VA toroidal transformer and 132,000 uF capacitance is more than many other high end integrated amplifiers and means the Sigsum does not run out of juice powering large loudspeakers in moderately sized rooms. The AVID Sigsum will preserve the dynamic range beyond its 110 watt specification more than amplifiers that while specified at twice the output power may have hardly any headroom.
Connection to the loudspeakers is made from very high quality UK made binding posts that are well spaced apart to receive banana plug type connectors as large as those found in Van den Hul's Cumulus speaker cables or to receive spade terminations that can be secured very tightly. The output stage is a high current one but the Sigsum does not run hot.
Protection is provided in the event of a fault occuring such as output short-circuit, DC offset, or if the unit exceeds its maximum operating temperature.
The heavy duty speaker binding posts are compatible with both 0.25" and 8mm spades. Four millimeter banana plugs that are over 5/8" or 17mm in length may also be used but 0.5" older style bananas plugs are not long enough.
U.S Retail Price: $19,995 black or silver finishes.